August 1, 2010
DONE!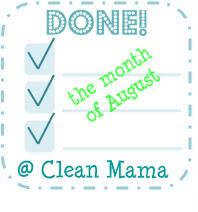 In lieu of taking a break from blogging so I can tackle my to-do list, I'm asking you to work on and conquer your to-do list right along with me. Whether you have a couple things that never get done or list three pages long, let's check off those chores and finish the list this month together! Sound like fun? Hopefully it'll be productive and fun for all of us!
Here's how it's going to work:  for the month of August, I'm going to be working on little projects and things that are on my DONE! list and I'll blog about them. Through the month I'll be providing tips and tricks and meaningful content to help you on your own quest for clean and homey goodness. Think:  freezer cooking, cleaning some overlooked areas, hanging pictures and decorations that have been in boxes in the basement….. Hopefully I'll get to the bottom of my list and you'll get through yours. I'll be blogging almost daily on my progress. I will still hold Messy Monday and will try to incorporate my summer themes into the to do list as much as possible.
If you are "in" and want to blog along with me (yeah!), please do and link your posts back here so your readers can see where the madness began. If you want to follow along with your own to do list and keep your DONE! list to yourself that's great too. If you only want to watch from the sidelines, that's great, but feel free to jump in at any time.
I have a DONE! To Do List for you – go here to get one  (don't have a Scribd account, email me at clean.mama@yahoo.com and I'll send you one) – write down some things that you want to get done in August and I'll see you here this month and we can get our lists taken care of together.
Want to see what I'm working on this month? Come back  and check in on the progress of my DONE! list. I have some prizes  lined up during the month, so you'll want to be on the look out for those. Are you in – ready to get some stuff DONE?