January 31, 2013
Grand Prize Winners + Wrap-Up
You voted, we voted – the GRAND PRIZE winners are:
First Place:  (Oreck Versa Vac)  Liza
Second Place:  (Alejandra's Power Productivity Program)  Mom, Paper, Scissors 
Third Place:  (Cricut Mini Package) Vanessa's Kitchen
Fourth Place:  (Office Depot – $100 Gift Card) Laura @ Casual Fridays 
Congratulations! It's been a great month – I hope you were inspired to get something organized this month!
During the month of January, myself and six other fabulous Organizing Bloggers got together to host an organizational challenge each week for four weeks. We had great participation, and many of you joined the challenge – I hope you were able to organize some spaces in your home. I know we all enjoyed checking out the spaces you organized in your offices, kitchens, closets, living areas and playrooms. What a great start to the New Year! When we were planning this challenge, we thought it would be fun to share some great prizes for those that linked up pictures of their spaces. We decided to allow our readers to vote on the linked up spaces and planned to give prizes to the top three each week and wrap up the challenge with some fabulous grand prizes. We contacted a number of companies that we've worked with, and they came through in a HUGE way! The prizes for this challenge were amazing!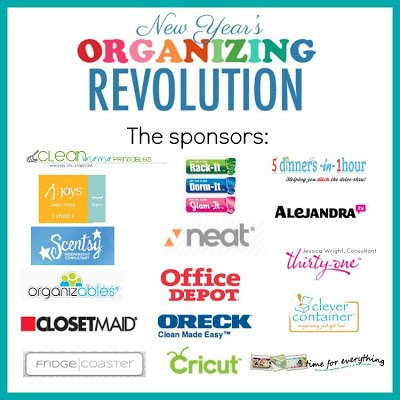 Thanks again to all of our sponsors for these fabulous prizes! THEY were the reason we were able to host such a great challenge with such fantastic prizes!
This challenge was hosted by these amazing Organizing Bloggers:
If you don't already follow them on Facebook or Pinterest, this is a group of bloggers you definitely want to follow! You'll be glad you did, they all have some great organizing tips, and love to work together to bring you fabulous opportunities like this one!